Appendicular cancer: relevance, diagnosis, treatment, prognosis. Results of an in-house clinical observation
Keywords:
cancer of the appendicular process, 5-year survival, prognosis, risk factors
Abstract
The article is devoted to cancer of the appendix, which is extremely rare. The incidence of worm cancer is 0.5% of all forms of colon cancer. According to the histological classification there are 7 forms of this malignant pathology: neuroendocrine tumor, mucinous cystadenoma, mucinous cystadenocarcinoma, adenocarcinoma of the colon, goblet cell cancer, ring cell adenocarcinoma, paraganglioma. The article highlights the risk factors for appendicular cancer. Clinical manifestations, diagnostic criteria and treatment tactics of this type of colon neoplasm are described in detail. Data on 5-year survival and prognosis in this type of oncological pathology are given. The results of the patient's own clinical observation of worm cancer are described in detail.
Purpose - in view of the rare occurrence of apendicularis cancer to make a clinical case of its treatment in the department of operative gynecology of SI «Institute of Pediatrics, Obstetrics and Gynecology named after academician O.M. Lukyanova of the NAMS of Ukraine» for the formation of alertness of physicians to this pathology.
There were outlined risk factors of apendicular cancer development. There were described in detail clinical manifestations, diagnostic criteria and treatment tactics of this type of colon cancer. There were given the data of 5-year survival rate and prognosis of this kind of oncologic pathology. Separately, there were described in detail the results of the in-house clinical monitoring of cancer of the worm gastrointestinal tract in a female patient.
The research was carried out in accordance with the principles of the Helsinki Declaration. The informed consent of the patient was obtained for conducting the studies.
No conflict of interests was declared by the authors.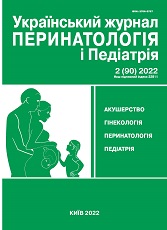 Downloads
License
Copyright (c) 2022 Ukrainian Journal of Perinatology and Pediatrics
This work is licensed under a Creative Commons Attribution-NonCommercial 4.0 International License.
The policy of the Journal "Ukrainian Journal of Perinatology and Pediatrics" is compatible with the vast majority of funders' of open access and self-archiving policies. The journal provides immediate open access route being convinced that everyone – not only scientists - can benefit from research results, and publishes articles exclusively under open access distribution, with a Creative Commons Attribution-Noncommercial 4.0 international license(СС BY-NC).
Authors transfer the copyright to the Journal "MODERN PEDIATRICS. UKRAINE" when the manuscript is accepted for publication. Authors declare that this manuscript has not been published nor is under simultaneous consideration for publication elsewhere. After publication, the articles become freely available on-line to the public.
Readers have the right to use, distribute, and reproduce articles in any medium, provided the articles and the journal are properly cited.
The use of published materials for commercial purposes is strongly prohibited.