Syndrome of muscle weakness and myalgia in pediatric practice on clinical examples
Keywords:
children, muscle weakness, differential diagnosis
Abstract
The article presents data on the main causes of muscle weakness in children and discusses the clinical features of diseases that may be accompanied by muscle weakness. Emphasis is placed on the possibilities of differential diagnosis of muscle weakness syndrome in children through the use of various methods of examination. The algorithm of differential diagnostic search at muscular weakness is offered. The possibility of its application in pediatric practice is demonstrated on clinical examples. Despite certain common features in the onset of the disease in the presented cases, a detailed examination makes it possible to distinguish between congenital and acquired causes of muscle damage and refer the patient for appropriate treatment.
It should be noted that muscle weakness is a fairly common symptom in a child. More often it is not associated with damage to the muscles themselves. The causes of chronic weakness differ significantly in children of all ages. In a child with clinical signs of muscle weakness, it is necessary to conduct a thorough examination, aimed primarily at excluding various serious diseases.
The research was carried out in accordance with the principles of the Helsinki Declaration. The informed consent of the patient was obtained for conducting the studies.
No conflict of interests was declared by the authors.
References
Antypkin YuH, Okhotnikova OM, Oshlianska OA, Omelchenko LI. (2019). Problemni pytannia dytiachoi revmatolohii. Kyiv: Lohos: 700.
Ballabio A, Gieselmann V. (2009). Biochimica et Lysosomal disorders: From storage to cellular damage Biophysica Acta. 1793: 684-696. https://doi.org/10.1016/j.bbamcr.2008.12.001; PMid:19111581
Cassandrini D, Trovato R, Rubegni A et al. (2017). Congenital myopathies: clinical phenotypes and new diagnostic tools Italian Journal of Pediatrics. 43: 101. https://doi.org/10.1186/s13052-017-0419-z; PMid:29141652 PMCid:PMC5688763
Chinnery PF. (2000). Primary Mitochondrial Disorders Overview. In: Adam MP, Ardinger HH, Pagon RA et al, editors. GeneReviews. Seattle (WA): University of Washington, Seattle, 1993-2022.
ESE. (2022). Clinical Practice Guidelines. The European Society of Endocrinology. The voice for endocrinology. URL: https://www.ese-hormones.org/publications/guidelines/.
Fardeau M, Tome F. (1994). Vrozhdennыe myopatyy. V: Engler AG, Franzini-Armstrong C, redaktorы. Myolohyia. Niu-York: Makhrou-Khyll: 1487-1533.
Goddard AF, James MW, McIntyre AS, Scott BB. (2011). Guidelines for the management of iron deficiency anaemia. 60: 1309e1316. https://doi.org/10.1136/gut.2010.228874; PMid:21561874
Gonorazky HD, Bönnemann CG, Dowling JJ. (2018). Henetycheskaia osnova y fenotypycheskye osobennosty vrozhdennыkh myastenycheskykh syndromov Handbook of Clinical Neurology. 148: 549-564. https://doi.org/10.1016/B978-0-444-64076-5.00036-3; PMid:29478600
Gorman GS, Chinnery PF, DiMauro S et al. (2016). Mitochondrial diseases. Nature Reviews Disease Primers. 2: 16080. https://doi.org/10.1038/nrdp.2016.80; PMid:27775730
Jasndeep Kaler, Azhar Hussain, Sundip Patel, Shankar Majhi. (2020, Feb). Neuromuscular Junction Disorders and Floppy Infant Syndrome: A Comprehensive Review. Cureus. 12 (2): e6922. https://doi.org/10.7759/cureus.6922
Kompendium. (2022). Neyrotsirkulyatornaya distoniya. URL: https://compendium.com.ua/clinical-guidelines/cardiology/section-12/glava-1-nejrotsirkulyatornaya-distoniya.
MSD. (2022). The Trusted Provider of Medical Information since 1899. MSD Manuals Global Medical Knowledge. URL: https://www.msdmanuals.com.
Olshansky A. (2007). Virtual Mentor American Medical Association Journal of Ethics August. Clinical Pearl Diagnosis and Treatment of Guillain-Barre Syndrome. 9 (8): 552-554. https://doi.org/10.1001/virtualmentor.2007.9.8.cprl1-0708; PMid:23218149
Oshlianska OA, Shevchenko NS, Biliavska YuV. (2021). Yuvenilnyi dermatomiozyt. Pro shcho varto pamiataty doroslomu revmatolohu? Ukrainskyi revmatolohichnyi zhurnal. 4: 86.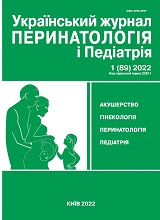 Downloads
License
Copyright (c) 2022 Ukrainian Journal of Perinatology and Pediatrics
This work is licensed under a Creative Commons Attribution-NonCommercial 4.0 International License.
The policy of the Journal "Ukrainian Journal of Perinatology and Pediatrics" is compatible with the vast majority of funders' of open access and self-archiving policies. The journal provides immediate open access route being convinced that everyone – not only scientists - can benefit from research results, and publishes articles exclusively under open access distribution, with a Creative Commons Attribution-Noncommercial 4.0 international license(СС BY-NC).
Authors transfer the copyright to the Journal "MODERN PEDIATRICS. UKRAINE" when the manuscript is accepted for publication. Authors declare that this manuscript has not been published nor is under simultaneous consideration for publication elsewhere. After publication, the articles become freely available on-line to the public.
Readers have the right to use, distribute, and reproduce articles in any medium, provided the articles and the journal are properly cited.
The use of published materials for commercial purposes is strongly prohibited.