Bacterial vaginosis and vulvovaginal candidiasis in women of reproductive age with overweight and obesity
Keywords:
bacterial vaginosis, vulvovaginal candidiasis, overweight, obesity
Abstract
In a review article of literary sources, domestic, foreign authors and their own research, modern views are highlighted, often problems and debatable, the prevalence of bacterial vaginosis (BV) and vulvovaginal candidiasis (VVC) among women with overweight and obesity, women of reproductive age. Vulvovaginal candidiasis (VVC) It ranks second among all vaginal infections and is one of the most common mental reasons for women to visit a gynecologist. Obesity and overweight play an important negative role in gynecological and obstetric practice. There has been a significant increase in C. albicans non-albicans in overweight women of reproductive age, and has a negative effect on the reproductive health of women. The article presents the results of a comparative study on the clinical and laboratory effectiveness of local therapy for bacterial vaginosis and IHC in overweight women. Against the background of metabolic disorders, there is an increase in the frequency of infectious pathology of the urogenital tract. Numerous literature data indicate that fungi of the city of Candida are part of various microbial associations and an important factor in their active growth is the deficiency of lactobacilli that produce H2O2.
Data on bacterial vaginosis and vulvovaginal candidiasis, development and role of metabolic disorders in the pathogenesis of BV and VVC are presented. Increasing the effectiveness of local treatment of disorders of the vaginal biocenosis in women with overweight and obesity by using individualized dietary nutrition, means of correcting the intestinal biocenosis and metabolic therapy, an integrated approach to the therapy of women of reproductive age showed more effective results. It has been found that overweight and obesity negatively affect the reproductive system of women. Irregular menstrual cycles, secondary amenorrhea, infertility, endometrial hyperplastic processes are often associated with overweight and obesity. In many cases, BV is combined with intestinal dysbiosis. In this case, vaginosis can be considered as a manifestation of a systemic dysbiotic process, affects not only the microbiota of the genitourinary system, but also the endogenous microflora in various cavities of the macroorganism, provided that it is influenced by any exogenous and endogenous factors.
No conflict of interest was declared by the author.
References
Abashova EI, Shalina MA, Yarmolinskaya MI, Misharina EV. (2017). Optimizatsiya kompleksnoy terapii bakterialnogo vaginoza u zhenschin reproduktivnogo vozrasta. Akusherstvo i ginekologiya. 11: 134-140. https://dx.doi.org/10.18565/aig.2017.11.134-140
Alyautdina OS, Esina EV. (2019, Oct-Dec). Immunological Methods for Treatment of Vulvovaginal Infections in the Preconception Period. J Med Life. 12 (4): 368-373. doi: 10.25122/jml-2019-0068. PMID: 32025255; PMCID: PMC6993294.
Anahtar MN, Gootenberg DB, Mitchell CM, Kwon DS. (2018, Feb 14). Cervicovaginal Microbiota and Reproductive Health: The Virtue of Simplicity. CellHostMicrobe. 23 (2): 159-168. https://doi.org/10.1016/j.chom.2018.01.013; PMid:29447695
Andreeva EN, Absatarova YuS. (2019). Endokrinnyie aspektyi vedeniya patsientok s vaginalnyimi infektsiyami. Akusherstvo i ginekologiya. 3: 141-146. https://doi.org/10.18565/aig.2019.3.141-146
Apolihina IA, Efendieva ZN. (2019). Sovremennyie napravleniya v lechenii bakterialnogo vaginoza. Akusherstvo i ginekologiya. 12: 193-196. https://dx.doi.org/10.18565/aig.2019.12:193-196.
Champer M, Wong AM, Champer J, Brito IL, Messer PW, Hou JY, Wright JD. (2018, Feb). The role of the vaginal microbiome in gynaecological cancer. BJOG. 125 (3): 309-315. Epub 2017 Apr 12. https://doi.org/10.1111/1471-0528.14631; PMid:28278350
Chilova RA, Proklova GF, Goncharenko NV. (2020). Problemyi differentsialnoy diagnostiki i lecheniya bakterialnogo vaginoza. RMZh. Mat i ditya. 3(1): 39-43. https://doi.org/10.32364/2618-8430-2020-3-1-39-43
Coudray MS, Madhivanan P. (2020). Bacterial vaginosis-A brief synopsis of the literature. European Journal of Obstetrics & Gynecology and Reproductive Biology. 245: 143-148. https://doi.org/10.1016/j.ejogrb.2019.12.035; PMid:31901667 PMCid:PMC6989391
Donders GGG, Bellen G, Grinceviciene S, Ruban K, Vieira-Baptista P. (2017, Nov-Dec). Aerobic vaginitis: no longer a stranger. Res Microbiol. 168 (9-10): 845-858. Epub 2017 May 11. https://doi.org/10.1016/j.resmic.2017.04.004; PMid:28502874
Giovanini AF, Lobas A, Reisdoerfer G. (2019). Bacterial Vaginosis and Desquamative Inflammatory Vaginitis. N. Engl J Med. 380: 1088-1089. https://doi.org/10.1056/NEJMc1900134
Gruzevskiy AA. (2017). Kolonizatsionnaya rezistentnost pri vaginalnom disbioze: sostoyanie gumoralnogo i kletochnogo zvenev. Vestnik morskoy meditsinyi. 4 (77): 103-107.
Gupta S, Kakkar V, Bhushan I. (2019, Nov). Crosstalk between Vaginal Microbiome and Female Health: A review. Microb Pathog. 136: 103696. Epub 2019 Aug 23. https://doi.org/10.1016/j.micpath.2019.103696; PMid:31449855
Hilbert DW, Smith WL, Paulish-Miller TE, Chadwick SG, Toner G, Mordechai E et al. (2016). Utilization of molecular methods to identify prognostic markers for recurrent bacterial vaginosis. Diagnostic Microbiology and Infectious Disease. 86 (2): 231-242. https://doi.org/10.1016/j.diagmicrobio.2016.07.003; PMid:27431434
Golyanovsky OV, Mehedko VV, Budchenko MA. (2017). Modern approaches to the treatment of bacterial vaginosis and mixed nonspecific vaginitis. Health of woman. 8(124): 89-95. https://doi.org/10.15574/HW.2017.124.89
Kalia N, Singh J, Kaur M. (2020, Jan 28). Microbiota in vaginal health and pathogenesis of recurrent vulvovaginal infections: a critical review. Ann ClinMicrobiolAntimicrob. 19 (1): 5. https://doi.org/10.1186/s12941-020-0347-4; PMid:31992328 PMCid:PMC6986042
Kira EF, Rastorgueva LI, Halturina YuV, Pushkina VV. (2020). Infektsii vlagalischa. Dvuhetapnyiy metod lecheniya. Akusherstvo i ginekologiya. 4: 201-208. https://doi.org/10.18565/aig.2020.4.201-208
Kovalyik VP, Matushevskaya EV, Vladimirova EV. (2018). Vaginalnyie vyideleniya u zhenschin bez riska infektsiy, peredavaemyih polovyih putem. Akusherstvo i ginekologiya. 12: 171-176. https://doi.org/10.18565/aig.2018.12.171-176
Lee CY, Cheu RK, Lemke MM, Gustin AT, France MT, Hampel B, Thurman AR, Doncel GF, Ravel J, Klatt NR, Arnold KB. (2020, Dec 1). Quantitative modeling predicts mechanistic links between pre-treatment microbiome composition and metronidazole efficacy in bacterial vaginosis. Nat Commun. 11 (1): 6147. https://doi.org/10.1038/s41467-020-19880-w; PMid:33262350 PMCid:PMC7708644
Luchiari HR, Ferreira CS, Golim MA, Silva MG, Marconi C. (2016, Mar). Cervicovaginal bacterial count and failure of metronidazole therapy for bacterial vaginosis. Int J Gynaecol Obstet. 132 (3): 297-301. Epub 2015 Nov 29. https://doi.org/10.1016/j.ijgo.2015.08.003; PMid:26674316
Nasioudis D, Linhares I, Ledger W, Witkin S. (2016). Bacterial vaginosis: a critical analysis of current knowledge. BJOG: An International Journal of Obstetrics & Gynaecology. 124 (1): 61-69. https://doi.org/10.1111/1471-0528.14209; PMid:27396541
Nikonov EL, Gurevich KG. (2017). Mikrobiota razlichnyih lokusov organizma. Nauchnyiy doklad. M: Rossiyskaya akademiya nauk.
Ogorodnyk AA, Davydova IuV. (2017). Efficacy of Itraconazole in Preconceptional Prevention of Recurrent Vulvovaginal Candidiasis. Perinatologiya i pediatriya 2 (70): 74-78. https://doi.org/10.15574/PP.2017.70.74
Oh HY, Seo S-S, Kong J-S, Lee J-K, Kim MK. (2015). Association between obesity and cervical microflora dominated by Lactobacillus iners in Korean women. J Clin Microbiol. 53: 3304-3309. https://doi.org/10.1128/JCM.01387-15; PMid:26269625 PMCid:PMC4572524
Pustotina OA, Ostromenskiy VV. (2019). Obzor sovremennyih rekomendatsiy vedeniya zhenschin s vyideleniyami iz polovyih putey. Akusherstvo i ginekologiya. 5: 180-184. https://doi.org/10.18565/aig.2019.5.180-184
Recine N, Palma E, Domenici L, Giorgini M, Imperiale L, Sassu C, Musella A, Marchetti C, Muzii L, Benedetti Panici P. (2016, Jan). Restoring vaginal microbiota: biological control of bacterial vaginosis. A prospective case-control study using Lactobacillus rhamnosus BMX 54 as adjuvant treatment against bacterial vaginosis. ArchGynecolObstet. 293 (1): 101-107. Epub 2015 Jul 5. https://doi.org/10.1007/s00404-015-3810-2; PMid:26142892
Redelinghuys MJ, Geldenhuys J, Jung H, Kock MM. (2020, Aug 11). Bacterial Vaginosis: Current Diagnostic Avenues and Future Opportunities. Front Cell Infect Microbiol. 10: 354. https://doi.org/10.3389/fcimb.2020.00354; PMid:32850469 PMCid:PMC7431474
Ryabova SA, Prihodko AV, Tezikov YuV, Lipatov IS, Krasnova NA, Kalinkina OB, Hudyakova LN. (2017). Novyiy prakticheskiy vzglyad na terapiyu vulvoginalnogo kandidoza. Prakticheskaya meditsina. 7 (108): 134-137.
Schooley RT. (2018). The human microbiome: implications for health and disease, including HIV infection. Top Antivir Med. 26 (3): 75-78.
Serov VN. (2016). Rukovodstvo po ambulatorno-poliklinicheskoy pomoschi v akusherstve i ginekologii. Pod red. VN Serova, GT Suhih, VN Prilepskoy, VE Radzinskogo. M: GEOTAR-Media: 1136.
Sherrard J, Wilson J, Donders G, Mendling W, Jensen JS. (2018, Nov). 2018 European (IUSTI/WHO) International Union against sexually transmitted infections (IUSTI) World Health Organisation (WHO) guideline on the management of vaginal discharge. Int J STD AIDS. 29 (13): 1258-1272. https://doi.org/10.1177/0956462418785451; PMid:30049258
Si J, You HJ, Yu J, Sung J, Ko G. (2017, Jan 11). Prevotella as a Hub for Vaginal Microbiota under the Influence of Host Genetics and Their Association with Obesity. Cell Host Microbe. 21 (1): 97-105. https://doi.org/10.1016/j.chom.2016.11.010; PMid:28017660
Sobel JD. (2016, Jan). Recurrent vulvovaginal candidiasis. Am J Obstet Gynecol. 214 (1): 15-21. https://doi.org/10.1016/j.ajog.2015.06.067; PMid:26164695
Stapleton AE. (2016, Dec). The Vaginal Microbiota and Urinary Tract Infection. Microbiol Spectr. 4 (6): 10. https://doi.org/10.1128/microbiolspec.UTI-0025-2016; PMid:28087949 PMCid:PMC5746606
Tabeeva GI, Dumanovskaya MR, Chernuha GE, Priputnevich TV. (2020). Sovremennyie predstavleniya o mikrobiote v ginekologii.Akusherstvo i ginekologiya. 2: 38-44. https://doi.org/10.18565/aig.2020.2
Tkachenko LV, Uglova ND, Sviridova NI, Skladanovskaya TV. (2018). Sovremennyiy podhod k lecheniyu vulvovaginalnyih infektsiy. Akusherstvo i ginekologiya: Novosti. Mneniya. Obucheniya. 4 (22): 52-58. doi: 10.24411/2303-9698-2018-14006.
Tsimaris P, Giannouli A, Tzouma C, Athanasopoulos N, Creatsas G, Deligeoroglou E. (2019, Dec 9). Alleviation of vulvovaginitis symptoms: can probiotics lead the treatment plan? Benef Microbes. 10 (8): 867-872. https://doi.org/10.3920/BM2019.0048; PMid:31965832
Ulyanova IO, Makarenko TA, Kuznetsova DE. (2020). Opyit primeneniya kombinirovannogo preparata mestnogo deystviya, soderzhaschego ternidazol, v lechenii bakterialnogo vaginoza. Akusherstvo i ginekologiya. 2: 174-177. https://doi.org/10.18565/aig.2020.2.174-177
Van de Wijgert JHHM, Jespers V. (2017 Nov-Dec). The global health impact of vaginal dysbiosis. Res Microbiol. 168 (9-10): 859-864. Epub 2017 Mar 1. https://doi.org/10.1016/j.resmic.2017.02.003; PMid:28257809
Vazquez F, Fernandez-Blazquez A, Garcia B. Vaginosis. (2019, Nov). Vaginal microbiota. Enferm Infecc Microbiol Clin. 37 (9): 592-601. English, Spanish. Epub 2018 Dec 26. https://doi.org/10.1016/j.eimc.2018.11.009; PMid:30594321
Wang ZL, Fu LY, Xiong ZA, Qin Q, Yu TH, Wu YT, Hua YY, Zhang YH. (2016, Feb). Diagnosis and microecological characteristics of aerobic vaginitis in outpatients based on preformed enzymes. Taiwan J Obstet Gynecol. 55 (1): 40-44. https://doi.org/10.1016/j.tjog.2015.06.012; PMid:26927246
WHO. (2020). Sexually Transmitted and Other Reproductive Tract Infections. URL: http://www.who.int/reproductivehealth/publications/rtis/9241592656/en/.
Wojkowska-Mach J, Pomorska-Wesolowska M, Romanik M, Romaniszyn D. (2021, Jan 5). Prevalence and Antimicrobial Susceptibility Profiles of Microorganisms Associated with Lower Reproductive Tract Infections in Women from Southern Poland-Retrospective Laboratory-Based Study. Int J Environ Res Public Health. 18 (1): 335. https://doi.org/10.3390/ijerph18010335; PMid:33466345 PMCid:PMC7794702
Workowski KA, Bolan GA. (2015). Centers for Disease Control and Prevention. Sexually transmitted diseases treatment guidelines. MMWR Recomm. 64 (RR-03): 1-137.
Xiao B, Wu C, Song W, Niu X, Qin N, Liu Z, Xu Q. (2019, Jun 11). Association Analysis on Recurrence of Bacterial Vaginosis Revealed Microbes and Clinical Variables Important for Treatment Outcome. Front Cell Infect Microbiol. 9: 189. https://doi.org/10.3389/fcimb.2019.00189; PMid:31245300 PMCid:PMC6579829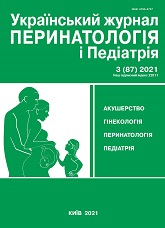 Downloads
License
The policy of the Journal "Ukrainian Journal of Perinatology and Pediatrics" is compatible with the vast majority of funders' of open access and self-archiving policies. The journal provides immediate open access route being convinced that everyone – not only scientists - can benefit from research results, and publishes articles exclusively under open access distribution, with a Creative Commons Attribution-Noncommercial 4.0 international license(СС BY-NC).
Authors transfer the copyright to the Journal "MODERN PEDIATRICS. UKRAINE" when the manuscript is accepted for publication. Authors declare that this manuscript has not been published nor is under simultaneous consideration for publication elsewhere. After publication, the articles become freely available on-line to the public.
Readers have the right to use, distribute, and reproduce articles in any medium, provided the articles and the journal are properly cited.
The use of published materials for commercial purposes is strongly prohibited.