Concentration of 25(OH)D in blood serum and certain aspects of the clinical course of juvenile scleroderma
Keywords:
children, juvenile scleroderma, vitamin D
Abstract
Purpose — to assess the vitamin D supply in children and adolescents with systemic juvenile scleroderma (JS), taking into account its onset and clinical course at different periods of the child's development.
Materials and methods. 14 children of 1 year 3 months —17 years old with systemic JS and 10 healthy children of the control group were examined. The concentration of 25(OH)D was determined in blood serum using commercial kits Vitamin D3 — Screeningkit, Switzerland, according to the manufacturer's instructions.
Results. All patients with systemic JS showed a decrease in serum 25(OH)D levels — (24.55±9.32) ng/ml, compared to healthy children — (39.98±3.11) ng/ml. The lowest concentrations of the circulating form of vitamin D in the blood serum were in patients with limited form of systemic JS with Parry–Romberg hemiatrophy and «saber strike» — (14.07±3.38) ng/ml, as well as with the onset of generalized rapidly progressive JS in children at puberty — (16.31±4.6) ng/ml.
Conclusions. Children with JS are shown to assess their vitamin D status by monitoring the serum concentration of 25(OH)D in order to decide whether to prescribe vitamin D supplements.
The research was carried out in accordance with the principles of the Helsinki declaration. The study protocol was approved by the Local Ethics Committee of the participating institution. The informed consent of the patient was obtained for conducting the studies.
No conflict of interest was declared by the authors.
References
Arnson Y, Amital H, Agmon-Levin N, Alon D, Sanchez-Castanon M, Lopez-Hoyos M et al. (2011). Serum 25-OH vitamin D concentration are linked with various clinical aspects in patients with systemic sclerosis: a retrospective cohort study and review of the literature. Autoimmun Rev. 10: 490-494. https://doi.org/10.1016/j.autrev.2011.02.002; PMid:21320645
Artaza JN, Norris KC. (2009). Vitamin D reduces the expression of collagen and key profibrotic factors by inducing an antifibrotic phenotype in mesenchymal multipotent cells. J Endocrinol. 200: 207-221. Epub 2008 Nov 26. https://doi.org/10.1677/JOE-08-0241; PMid:19036760 PMCid:PMC3787314
Baranov AA, Alekseyeva IA. (2011). Detskaya revmatologiya. Klinicheskiye rekomendatsii dlya pediatrov. Moskva: Soyuz pediatrov: 112. Rukovodstvo dlya vrachey. Pod redaktsiyey LK Bazhenovoy (2002). Mosкva: Meditsina: 336. R. 4.2: 138-178.
Berezhnyy VV, Marushko TV, Marushko YV. (2013). Klinichna revmatolohiya dytyachoho viku: Navchal'nyy posibnyk. Kyiv: R. 13. Yuvenil'na systemna sklerodermiya: 266.
Bikle DD. (2012). Vitamin D and bone. Curr Osteoporos Rep. 10 (2): 151-159. https://doi.org/10.1007/s11914-012-0098-z; PMid:22544628 PMCid:PMC3688475
Mukvich OM. (2020). Yuvenil'na systemna sklerodermiya: diahnostyka, likuvannya, profilaktyka. Akademichni lektsiyi z pediatriyi. Za red YH Antypkina. Kyiv: TOV «RA-HARMONIYA». 624: 545-571.
Omair MA, Pagnoux C, McDonald-Blumer H, Johnson SR. (2013). Low bone density in systemic sclerosis. A systematic review. J Rheumatol. 40: 1881-1890. https://doi.org/10.3899/jrheum.130032; PMid:24037552
Povoroznyuk VV, Pludovs'ki P. (2014). Defitsyt ta nedostatnist' vitamin D: epidemiolohiya, diahnostyka, profilaktyka ta likuvannya, Donets'k: Vydavets' Zaslavs'kyy OYU: 262.
Shinjo SK, Bonfa E, de Falco Caparbo V, Pereira RM. (2011). Low bone mass in juvenile onset sclerosis systemic: the possible role for 25-hydroxyvitamin D insufficiency. Rheumatol Int. 31: 1075-1080. https://doi.org/10.1007/s00296-010-1421-6; PMid:20336459
Usategui A, Criado G, Del Rey MJ, Far? R, Pablos JL. (2014). Topical vitamin D analogue calcipotriol reduces skin fibrosis in experimental scleroderma. Arch Dermatol Res. 306: 757-761. https://doi.org/10.1007/s00403-014-1466-6; PMid:24788893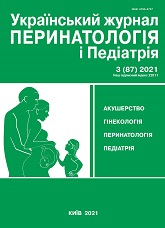 Downloads
Section
Original articles
License
The policy of the Journal "Ukrainian Journal of Perinatology and Pediatrics" is compatible with the vast majority of funders' of open access and self-archiving policies. The journal provides immediate open access route being convinced that everyone – not only scientists - can benefit from research results, and publishes articles exclusively under open access distribution, with a Creative Commons Attribution-Noncommercial 4.0 international license(СС BY-NC).
Authors transfer the copyright to the Journal "MODERN PEDIATRICS. UKRAINE" when the manuscript is accepted for publication. Authors declare that this manuscript has not been published nor is under simultaneous consideration for publication elsewhere. After publication, the articles become freely available on-line to the public.
Readers have the right to use, distribute, and reproduce articles in any medium, provided the articles and the journal are properly cited.
The use of published materials for commercial purposes is strongly prohibited.